International Business Alumni
Stay Connected with IB
IB Connection
IB Connection is our official LinkedIn group for current students and alumni from the International Business Program at San Diego State University. This group is intended to create a platform for current students and alumni of the program to network. This is an excellent resource to find or post jobs/internships, create mentor opportunities and share job/career related advice. Group is managed by the IB department in collaboration with alumni. To become a part of IB Connection you must first join us via our LinkedIn page.


Donate
Every student in the IB Program is required to go abroad. When possible the IB Program provides scholarships for students to assist with the financial obligation of living in a foreign country. The IB Program and all students would greatly appreciate any donations to be used for future scholarships for students to continue exploring the world learning new languages and learning about other cultures.
All donations to SDSU are made through the non-profit Campanile Foundation. Every dollar invested in San Diego State makes a critical difference by enabling access and preparing leaders for tomorrow. Through your generosity, as well as that of other alumni and friends, SDSU will be able to use your gift to support the brightest young minds in the pursuit of higher education. Make a gift to our program.

Recruit an International Business Student
Internships are an important part of our part of our degree program and all students must complete an internship in their junior or senior year. Share your knowledge and expertise with a current student by offering an internship. We welcome internship opportunities in San Diego, nationally and in international locations.
Looking to hire an International Business student? We are happy to help you recruit from our graduating class or post your employment opportunity for recent graduates. Contact our office for more information.


Connect with Students
Our IB Society frequently invites industry specialists in specific fields or geographic areas to participate in panel discussions, lectures and events. Connect with them today to share your professional experience and knowledge via Facebook and Instagram.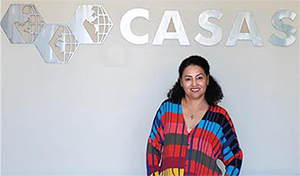 "Having an IB degree really elevated my potential. When I graduated it was a pivotal time with the signing of NAFTA in 1994 and the expansion of the global economy. The program guided me to see my future — I was intrigued. Being part of the original IB graduating class added prestige to my SDSU degree and it opened doors for me by giving me a handful of keys."
Myrna Aguilar Sanchez ('94), VP of Brokerage Operations, CASAS International

Campus Resources

Stay Informed